I once had a dream, the biggest dream I'd had until 2013, that I was an invisible winged elephant. But let me begin at the beginning, where all good stories start.
One hundred years ago, when I was in college and stuck in a dangerously negative relationship, I had this dream. Here I quote my subconscious, for she used my very hand to write the words on the page from which I transcribe:
"…Then I was this being who could be invisible with much concentration or shrink but then had to grow to my size again in the time people can hold their breath. I was in hiding because the people thought they killed me. But I hid, invisible. A duck was the only one who saw me leave after, but that [jerk] squawked loudly. I flew. Like a bird. It was beautiful. I flapped my arms hard and pushed off and I could fly. Confidently. I want to do that. Really badly. It was fun. Maybe hang-gliding? That'd be nothing like this.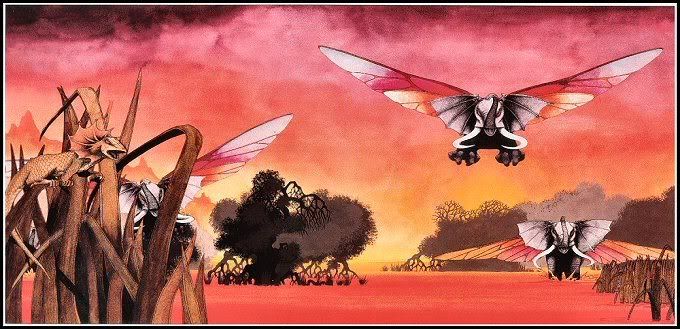 I flew past most houses to rolling slopes of a ravine. There was food stored in them. So I ate some. I had a HUGE appetite, since I was the elephant creature who shrunk + grew.

People were using the ravine, a woman + man. She came down + I shrunk but couldn't hold it. She screamed + I told her I was a hallucination…. By this point I had a new power. I could stay hidden if I projected my [self] into another form."
It goes on for several pages, and it boils down to me trying multiple methods to hide who I was from other people, because of fear that I would be ostracized, punished, disliked. And I played along in waking life; I hid and hid until my brain was scrambled and my heart was buried and my feelings numbed beyond arctic levels of frozen.
And yet I sang to myself during art class, and I whistled as I skipped from building to building, and I worked at the vegan café making sandwiches and washing grease off the vents for hours so I could eat there for free. I maintained the tiniest pieces of myself, keeping the little flame of me alive. I contained my irrepressible individuality so fiercely that it couldn't help spilling over into spaces that felt somewhat safe.
An elephant is a spiritual being, wise, connected to family and other women. She honors her instincts and follows natural cycles. She lives long, steadily, prosperously.
Why should anyone ever hide such a wonderful self?